Getting Started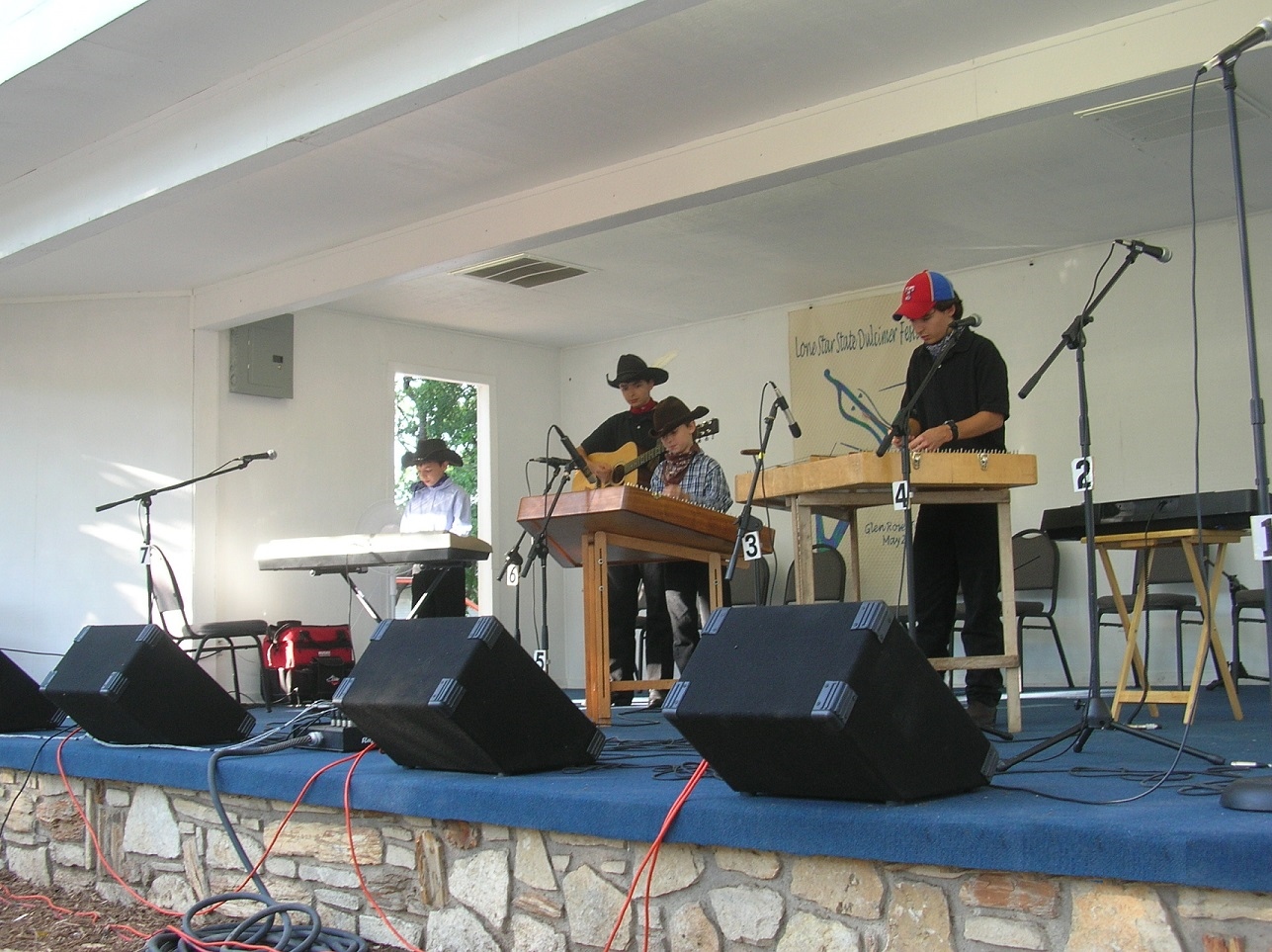 The brothers' first formal introduction to music was in 2007, when Christopher started taking piano lessons from Mrs. Marie Graham. Though it would be a couple of years before they would all start lessons, the music that Mrs. Graham was instilling in Christopher would be played in the house and be absorbed subconsciously by the others. The piano lessons gave the brothers a strong musical foundation and a growing interest in music. Then, in the spring of 2011, after 4 years of lessons, God guided them, through their good friend Mr. Scott Jackson, to go to the Lone Star State Dulcimer Festival (a.k.a. Glen Rose), where they were introduced to the hammered dulcimer. This event changed their lives. While there, a friend showed Luke how to play a simple tune on a dulcimer and the rest is history. Also at the festival, they met Dana Hamilton (a.k.a. Mr. Dana), a renowned musician and entertainer who has been, and continues to be, an advisor, encourager and inspiration to the brothers on their musical journey. After the festival, Mr. Jackson lent them a dulcimer, and Luke started picking out songs on it as though he had been playing it all his life. This intrigued the others, and with the knowledge Mrs. Graham had implanted in them, they began to accompany Luke on the piano.
Adding Pieces to the Puzzle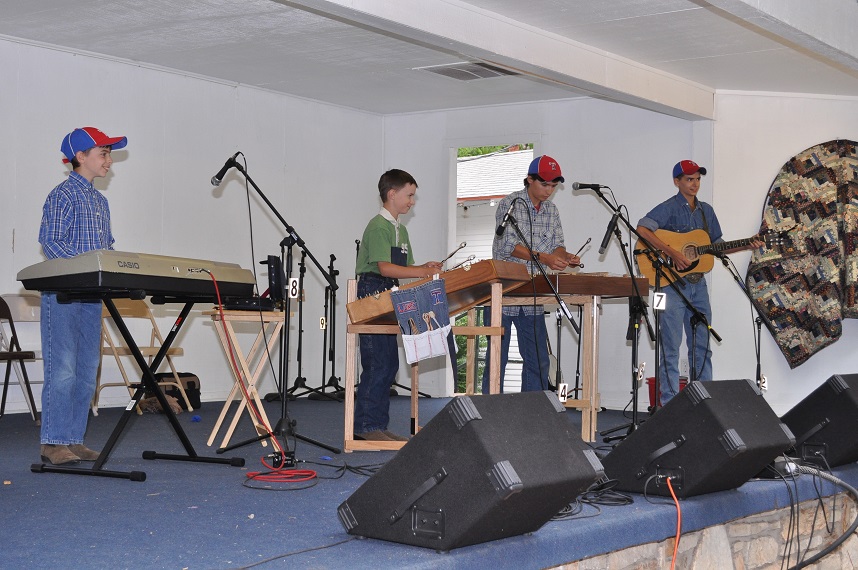 Soon, they started learning other instruments. Nicholas took up the guitar, and Christopher took up the hammered dulcimer. After the second year, Christopher took up the banjo, and Joel took up the fiddle. Eventually, a pennywhistle, mandolin and bones were added. Learning all of their songs and techniques by ear, the brothers used Scott Jackson's Shanty Tunes, Sweet Song String Band's Hop High Ladies, And Bill Spence's The Hammered Dulcimer CDs to shape their playing. Though self-taught, through workshops at festivals like Winter Creek Reunion and Winter Festival of Acoustic Music, they were able to get pointers that helped them refine their playing.
The Forming of a Band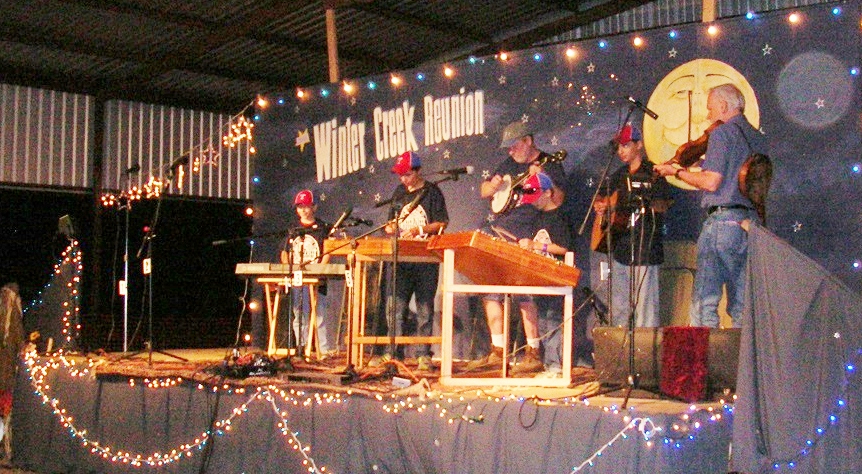 In 2013, another event would completely change the direction the brothers were going. At the annual Winter Festival of Acoustic Music, one of the featured bands was No Strings Attached, a group featuring two hammered dulcimers, as well as a fiddle, guitar, piano, mandolin, and bass, playing a wide range of music. This group held a workshop explaining and demonstrating the intricacies of group arrangements. This revolutionized how the brothers thought of their playing. They went from playing songs just for fun, to working on being a band and working up more than just songs, but rather, rousing arrangements of songs!
"To play a wrong note is insignificant;
to play without passion is inexcusable."
-Ludwig van Beethoven
Composer
Development
With their focus on working together as a band, the brothers started getting calls to play for small events and groups. They also started going to more festivals, where they got to meet and be influenced by premier entertainers Cathy Barton & Dave Para, a banjo/guitar/hammered dulcimer duo. They would greatly influence Christopher's banjo playing, Christopher and Luke's hammered dulcimer playing, and Nicholas' guitar playing. At these festivals, the brothers also got to meet and learn from Bill Spence, a hammered dulcimer master, whose CD had given them many songs that were now in their repertoire and had influenced Christopher and Luke's hammered dulcimer playing.
During this time (2013), Luke won the Lone Star State Hammered Dulcimer Competition, becoming the youngest winner of the contest (which is not broken down into age brackets) at age nine. After two years of finishing third in the same contest, Christopher also got the distinct recognition of being the Lone Star State Hammered Dulcimer Champion (2014). By this point, the brothers' musical interests had grown, diversifying their influences. Enjoying music that ranged from Yanni's unique sound to the harmonizing of the Statler Brothers to the Scottish fiddling of Alasdair Fraser, they absorbed as much as they could so that they could refine their music more and more. All of this helped to shape their sound, which had grown into something very unique and exciting.